All you need to know about Kinner Kailash Trek
Kinner Kailash trek distance- Approx 70km
Elevation Gain – 5240 mtrs
Difficulty Level – Extremely Difficult (90% steep slopes, 5% normal and 5% rocky and hard climbing)
Min. days required – 4 days
Best Time to visit Kinner Kailash Trek  – August and September are the best times
How to reach the base – For Peo, we have direct buses
One leaves from Chandigarh around 2:30 AM (Delhi-Peo), 4:50 AM (Chd- Peo – Ordinary), (5:45 AM, Chd – Peo – Semi Deluxe). The journey from CHD to Peo is around 14-15 hours.
Route: Chd>Shimla>Narkanda>Rampur>Jeory>Peo then Peo>Tangling
About Kinner Kailash Trek – Performed by both Buddhists and Hindus, a parikrama second only to that of Mt. Kailash.
Trek starts from Tangling with stairs and then crossing the village. you will find apple trees along the way. After walking around half km trek starts with steep slopes but yeah nature and mountains towards both sides.
You can have your first meal here and head towards Ganesh park. this place is around 6 km from the 1st 2 food points you will find on this trek. you will cross a small stream and then again a steep uphill leading to a mesmerizing view of the peo city and satluj river.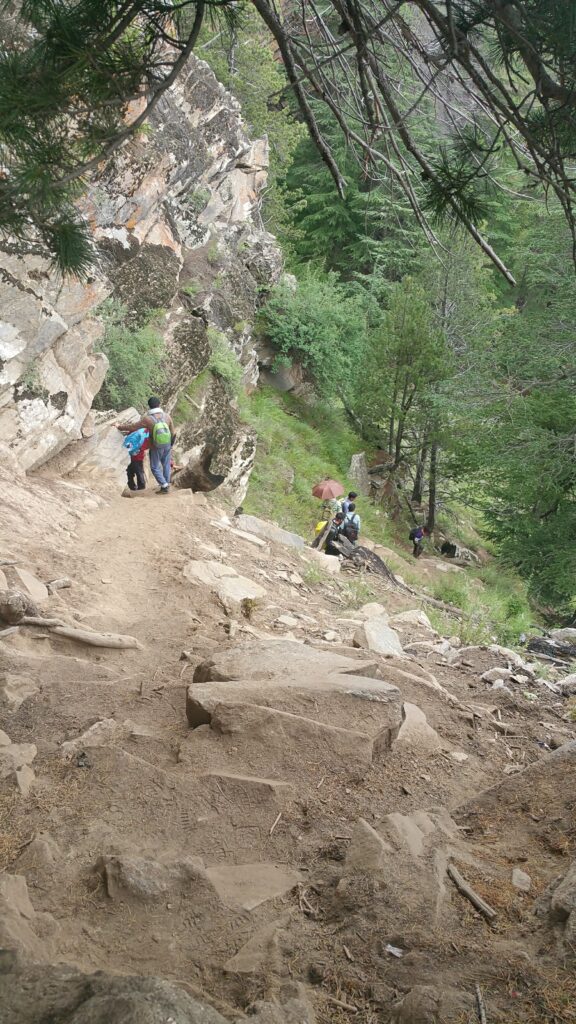 It will take around 4-5 hours to reach Ganesh park and even more sometimes. At Ganesh park, you can find small food points where you can have tea, Maggi or food. Even you can stay here for the 1st day in tents or you can continue your journey to caves where you can stay by the end of the day.
One thing that needs to be kept in mind is that there is no food point after Ganesh park so one can get his/her food packed for the night and the next day as well or if you have your own utensils you can prepare there as well.
After Ganesh park the slope declines a little bit but yeah you have to keep moving uphill till the time you reach a point where you will find a steep downhill of some hundred metres. After covering another 4-5 km you will find the site for camping (in case you have your own tent and sleeping bags) or you can stay in caves as well. Again sleeping bags must be carried.
We reached Ganesh park around 2 Pm and had our lunch done over there and started moving towards the caves. Reached there around 6 pm in the evening and stayed in caves and sleeping bags.
We started our journey the next day in the morning around 2:30 AM and reached Parvati Kund around 6 in the morning this could have been reached earlier if we had not lost our way when we started our journey from the caves.
From the caves, the path is well defined for another 1 Km and after that, the rocks start where the path is marked by stones kept on one another (Please do not touch those stones). This way will lead you to the Parvati Kund.
Try to carry less luggage on this trek or after caves don't carry your tents and sleeping bags or anything extra. We hid our backpacks in between the rocks at Parvati Kund. Carrying heavy luggage won't allow you to climb the rocks after Parvati Kund because the way is like doing rock climbing without any tools. Shoes with good grips will be the best.
From Parvati Kund, it took around 2 more hours to reach Kailash. The way was full of big rocks and to reach the top you had to climb the rocks. there was no other way and one has to complete it and has to be cautious while climbing.
While heading back it will take again another 7-8 hours (approx) to complete the journey till Tangling.
Alternate Itinerary for Kinner Kailash –
Trek begins at Thangi (Thangi is a Village in Pooh Tehsil in Kinnaur District of Himachal Pradesh State, India. It is located 23 KM towards the East of District head quarters Reckong Peo. 18 KM from Pooh. 157 KM from State capital Shimla) on the right bank of the Tedong, about four hours by road from Reckong Peo. It is 10 kms. to Lambar (2950 m.), all along the steep Charang khad. The initial trek is stairs and then after crossing the village, you will find apple trees along the way.
Day 2 takes one 20 km. to the larger village of Charang (3400 m.), situated just above the confluence of the Charang and Shurtingting streams. There is a rest house here and a gompa where pilgrims receive blessings before moving on.
Day 3(13kms.) involves crossing the high pastures of Charang and ascending up a stream to Lalanti (4300 m.), camping on its left bank.
Day 4 (27 km.) is the most difficult, ascending more than a thousand meters, over immense rockfalls, past the snout of a glacier on the right, and then clawing one's way up a steep, scree slope to the Charang Pass (5240 m). The view from the top is awesome. From the saddle, it is a steep descent of almost 2000 meters to Chitkul (3400 m.), the last village in the Sangla valley and the road-head. Across the Baspa river, one can see the huge, verdant pastures known as "kandas" which offer infinite trekking and camping possibilities themselves. High above is the Rupen Pass, guarding the western flanks to the remote Dodra Kawar valley. Conclude the trek by worshipping at the temple of the Chitkul Devi and offering thanks. Incidentally, beyond Charang one is prohibited from plucking any wildflowers or shrubs by an edict of the Devi! One can stay at the rest houses in either Chitkul or Sangla, 24 km down the valley. From there it is a fantastically beautiful drive down to Karcham, and on to Shimla.
Things to keep in mind before attempting Kinner Kailash Trek.
there are limited shops on this trek that too till 6-7 km after that you won't find even a single shop where you can have something to eat. Suggest you to prepare yourself accordingly.
Carry all essentials for the trek.
People with problems of high altitude sickness and asthma are not suggested to go
If you are hiking in rain it's better to carry a big umbrella or rain poncho.
Mobile network is not available on most of the trek.
Trek is very challenging and you may need to prepare for this in advance
If you are planning for the trek and want to hire camping/trekking equipment you can rent it out at Chandigarh from Viknick .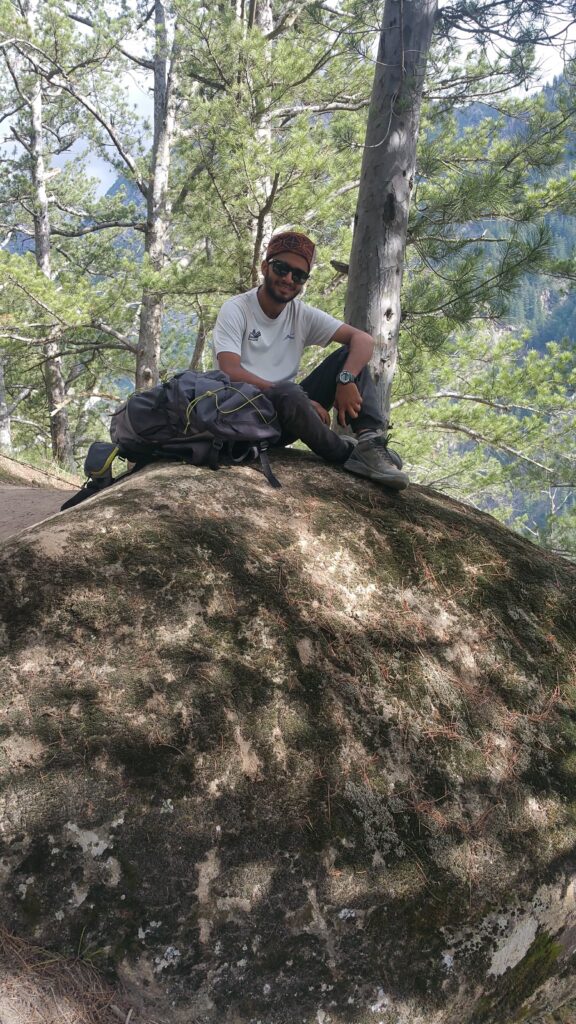 Want to add anything? Comment below and we will add it. Want to read more click here