So we were at Sankari base camp where we can purchase our trekking gear like a jacket, gloves, waterproof pant, Wollan cap. We started our trekking with one night stay at Sankari base camp for taking a rest.  And the early morning around 8 am we were ready for a trek on the same day we are trek 4 km in 5 hours continuously walking and reach Hargaon base camp where trip partner arranged some food like maggie and soup.
Complete our lunch and go somewhere sightseeing which name was Juda ka Talab the frozen lake, Such an amazing experience it was my first trekking.
Juda ka talab
The Kedarkantha peak base camp was so beautiful and opened up to the valley in front of the tents. From here we could see the Kedarkantha peak where we need to climb the next day. We spotted a lot of crows and some small birds here. Our trip partner was @tripmysoul.in.
I came here with my 8 groupmates, the fun was unexpected our group name was famous in whole, group name was Topa Ganges.
OUR TOPA GANGE IS HERE 👇👇👇👇😜
The timing for the big day was 2 am, 2.30 am and 3 am. Yes, we need to be at the peak for sunrise and hence this timing. We couldn't believe we started walking by 3.30 am after tea & breakfast. It was very cold in the morning with a chill breeze throwing snow particles on our faces. We were walking with our heads bent down looking at the feet of the person walking ahead.
After 2hr walk, we reached a Maggie point where we could take some rest. During this 2hr walk, we could only stop for some time on the way for water. There is no place to sit until we reach this spot as the entire stretch is covered with snow. As it was dark we could not enjoy the beautiful views on the way, but we could feel the thick snow around us and the walking trail had little hard snow. The temperature was -14°. We were walking with cold feet and cold hands, it was like our feet and hands were frozen.
Again, we continued the trek from Maggie point with a steeper path ahead. Due to the speed variation between the teammates, sometimes we got mixed up with other teams. The Trip my soul trek leaders were observing each one of us and made us feel that we are not lost anywhere. They were so encouraging and kept us all motivated. They timed the trek so perfectly that we reached the peak right for the sunrise at 7 am.  Altitude – 12,500 feet.
It was an amazing view to see the sun's rays filling the top of snow near us. The golden colour view of the snow cannot be explained in words.
It was so cold that I could not take out my gloves for taking pics. I was thinking of capturing so many different shots in the peak. But it did not work for me. Though there were lot of others who were normally clicking pics over there. The experience of seeing mighty Himalayas all around you was so amazing.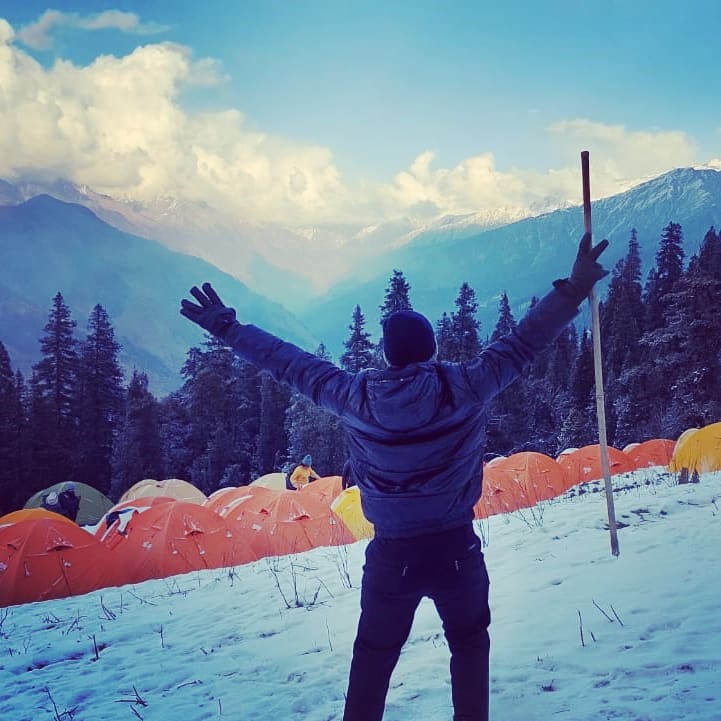 The return journey was furthermore exciting in a different path less used by people and covered with thick snow. We covered around 1km of the return journey by sliding in the snow. The trek leaders were so experienced to show us the right spots where we can perform snow slides.
We reached the Hargaon campsite around 3 pm and stayed there for the night to relax. Altitude – 8900 feet. This site was also having an excellent viewpoint and we spent our evening with team games. As usual the evening tea, soup and dinner were tasteful with gulab jamun as dessert. Morning tea was served in the tent as tent tea since it was too cold for us to come out at 7.30 am. After breakfast at 8.30 am, we started from this site at 9.30 am and moved through the snow-filled mountain. The views were excellent here too and we wanted to continue the trek for a few more days. Reached Sankri village by 12noon. Yes, as the trek leaders told Sankri was warmer than the peak 🙂 We all received certificates for successful completion of the trek.
Last but not least the trekking team was amazing with people from different parts of the country. Had a memorable fun time with them. We played a lot of games during the relaxing time like smoking some stuff, anthakshari, guess the personality etc. The trek leaders also joined us to make it more fun and to get to know us before the summit climb. I would say not a lot of people in South India knows about these treks. But it is definitely far more enjoyable for trek enthusiasts and cost-effective too. The Trip my soul team was perfect in all aspects and ensured the safety of the trekkers.