Chopta Tunganath Chandrashila Trek through my lens
Having a bucket list is good but getting started with living them is great. I always wanted to have a Himalayan trekking experience. So, I chose the Chopta Tunganath trek which is said to be an easy-moderate trek as compared to other Himalayan Treks.
We boarded a bus from Delhi at midnight and reached Rishikesh at 5:30 am. There we witnessed a serene sunrise and a cool morning breeze. From there, we started in a cab arranged by the Snowclad team who had also arranged our stay, food and trekking guide for the trek. On our way to Chopta, we were fascinated to see the confluence of Alaknanda and Bhagirathi at Devprayag that makes the Holy River Ganga.   We reached our base camp by afternoon. After reaching Chopta, we had a great time playing with colours by the side of a river stream just below the camp, as it was the occasion of Holi.
We stayed in Swiss tents which had basic things like bed blankets and a washroom.
The next morning, we had a light breakfast and carried packed food for our trek.
The path towards Tungnath is cemented. This beautiful route is surrounded by Rhododendron bushes all around. On our way, we could see views of the mighty Himalayan Mountain ranges. One would never fall short of views throughout the trek. The mountains allow us to pause and be in awe of the world's natural splendour.
Tung Nath is the world's highest Shiva temple at an elevation of 12073 feet. It is a Panch Kedar temple located 4 kilometres from Chopta.
After slaying their cousins in the Kurukshetra war, the Pandavas are said to have embarked on their quest to find Lord Shiva. Lord Shiva, however, was enraged by all the killings and wanted to avoid them, so he transformed into a bull and vanished into the ground, his bodily parts scattering in various locations. The place carries an amazing vibe with it.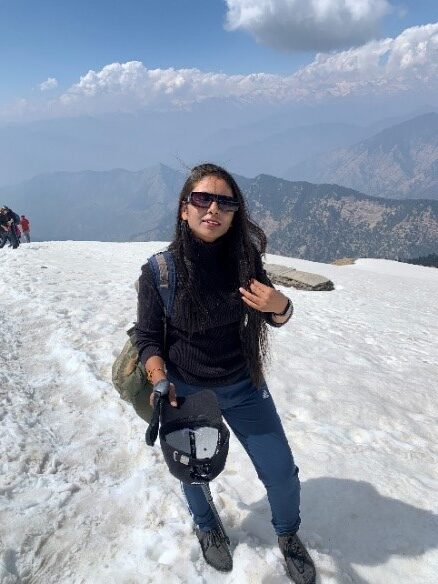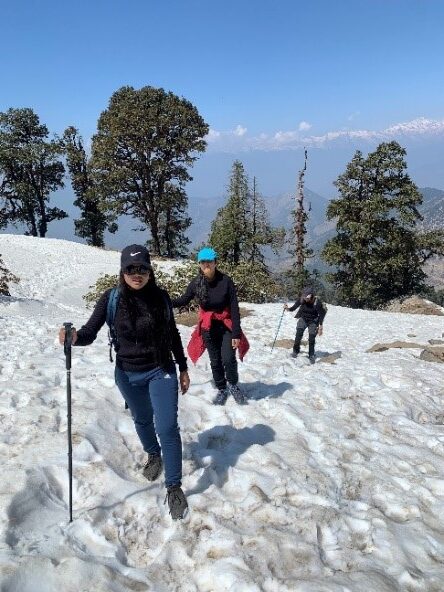 Another climb of 1 hr leads us to Chandrashila peak. Chandrashila translates to "Moonrock." The path from Tungnath to Chandrashilla was difficult as it was covered with a thick layer of snow and it was slippery. So we had to be very careful in choosing our steps. On reaching the top we had an experience like never before.
I felt like I am on top of the world! We could have a breath-taking 360-degree view, including the Himalayan ranges like Nanda Devi, Kedar Peak, Chaukhamba Peaks, Trisul, and BandarpunchBeing in the mountains reminds us how insignificant we are on this magnificent planet. Making us feel excitingly vulnerable while emphasizing how much we still haven't seen.
On our way back, we could see a beautiful sunset. The sun, with its warm colours, painted the sky and made the place an enchanted world.
We returned to the comfort of our tent yet it felt like we had been cast a spell that made us go back to those mountains in our thoughts. My heart was full of the moments, views and experiences. At night we had a bonfire and a great time getting to know other trekkers in the camp there.
Although the trek is over now, we are left with a lifetime of experience and memories to cherish!
You can read more experience about this trek here.