130 KM from Chandigarh, Churdhar (elevation of 3,647 metres; 11,965 feet) is the highest peak in Sirmour district and is also the highest peak in the outer Himalayas and offers a 360° view of the Himalayas. Once you are at the top you witness one of the best landscapes from the peak. You can find all the essential information about the trek here. I consider this as the best weekend trek from Chandigarh as it's equally challenging and mesmerising at the same time. Moreover, you can reach the trek base in just 4 hours.
So I was planning Trek to Churdhar peak along with Pankaj and my friends from work. Pankaj also got 2 of his friends to join for the trek. We were short of the camping gear so we got the same from the market outside the Air Force station Chandigarh. Though these days you can easily rent the required gears from Gadget Rental India in Chandigarh. I started my journey from Chandigarh and agreed to meet Pankaj at Solan the next day morning. On trek day Pankaj reached Solan around 6:00 AM. After some time we started our journey towards Noradhar.
Noradhar is one of the bases for Churdhar Trek and is a small village. The main routes for arrival are from Nohradhar to 18 Km, (Sirmour)and Sarahan, Chaupal of 8 km. You can get all the essential items for the trek at Noradhar.
We reached Noradhar at 10:30 am and got a new cooking pot. We also got some food and water as we were told that this was the last point where we would get food.
We started the trek at 10:50 am. There is a big gate of "Shirgul Maharaj" temple at starting of the trek.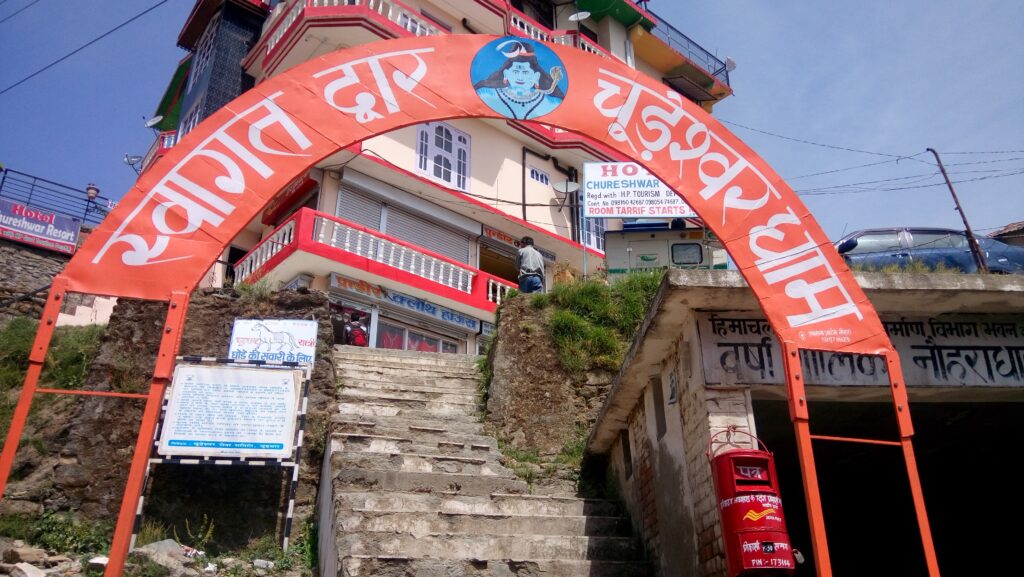 Churdhar is a holy place related to Shri Shirgul Maharaj (Chureshwar Maharaj), a deity widely worshipped in Sirmour and Chaupal.
At the very beginning of the trek, we found 2 different trails which meet at Jamnala. We followed the unpaved path which goes straight up and is a bit inclined.
I recommend taking this path only as it is very scenic however you need to start early in the morning as the sun is directly above your head for an initial 2-3 Km hike and there is no shelter/trees.
Once we entered the forest we were welcomed with the Rhododendron Tree forest. There is a bit flat trail and meadow once you cross the initial 2-3 km.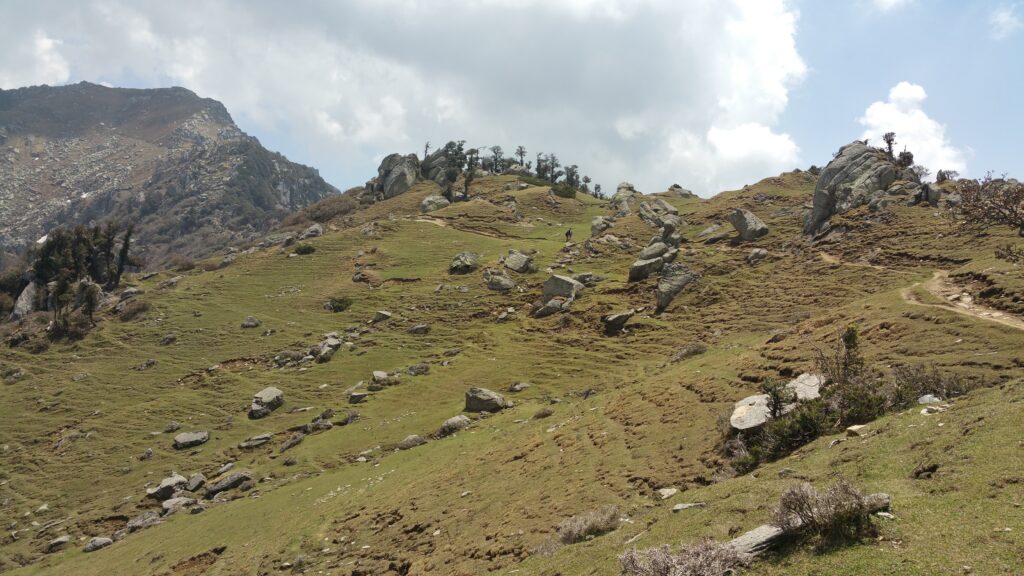 You can see the entire Sirmour valley from here. On one side of the trail, you will find a Churdhar wildlife sanctuary which is well protected by wires and on the other side, you keep hiking the trail. The trail further goes deep into the forest which is wide and thick.
Around afternoon we reached Jamnala. Before Jamnala there is only one water source which is maintained as this trail is also used by devotees for pilgrimage journeys to Churdhar.
Jamnala is having a small rain shelter that is used by Shepherds and devotees while on the way to Churdhar. When we reached Jamnala it started training so we waited in the shelter for some time.
After waiting for some time we started liking again through the mesmerizing forest. Between Jamnala and Tisri you will find another water source. By 4 PM we reached Tisri and started setting up the camp as we wanted to stay at Tisri for the night.
We didn't carry enough water when hiking though we had a fair idea that there will be no water source however we drank all the water before we reached Tisri. We had to collect some ice and melt which we used for cooking.
We were ready to sleep inside our tents when we heard a few voices approaching us. It was way too dark and at first, we were a bit afraid as we were the only ones who were camping at Tisri. Then we heard someone calling us. We were afraid and paused for a few minutes as it was way too dark and if you know there are a lot of haunted stories which we hear in mountains. After waiting for a few minutes we asked who it is? We were shocked when we heard a kid's voice. We came out of our tents to find out what's the matter. We were shattered to know what happened after that. There were 2 tall men, wearing just normal shirts without any sweater, with a child, totally lost. It was freezing cold outside. They immediately started requesting us to get their kid inside the tent.
Upon enquiring we found out that they were tourists from someplace in Haryana and they were misguided that they can reach the temple in 3-4 hours and everything is sorted there including food and stay. We felt angry and concerned at the same time.
Advice to every parent, please do a proper research of the trail if you are planning to get your childrens on a trek along with you. The treks are not the place for picnic and you definately need to consider all odd options and prepare for it before you get  your kids join it. I suggest consider double the time you were able to do a trek when you are doing the trek with your kids.
We got the kid inside the tents however both the male persons had to spend the night outside besides the campfire. fortunately, we had collected enough firewood to cook in the morning which kept them going throughout the night. I wonder what could have happened if they didn't find us at night.
The next morning we started the final hike at around 7:00 AM. After Tisri there are two ways to reach the Churdhar peak. One of the ways first go to the temple and Sarai and from there you need to hike to Shiva sculpture. There is a Sarai at the temple where you can stay for the night after paying nominal charges. The second way goes straight up and is very inclined. The trail is also tricky at a few points and you literally need to cross rocks. After hiking for approx. 2 hours we reached above rocks from where the path is not that inclined and is very easy.
On one side of the way, you will see the entire valley. Also after this point, Shiva sculpture is visible and you feel new energy to keep hiking.
The final stretch was where Prabh found out/fought and conquered his fear of heights. Once we were in the final stretch you can literally feel that you are walking on a mountain top and one step here and there could put your life at risk. This is where Prabh literally panicked and started shivering for a few minutes. He sat on the ground and said that he can't walk further and he will wait for us here. We waited for a few minutes, rested and motivated him to walk as the peak was very near. After a few minutes, he was able to overcome the fear and after that, he was literally jumping over the rocks. This is where I think he discovered and lost his fear of heights and this was the blessings of Lord Shiva that helped him.
We reached the peak at 10 am. The views from the peak are just from another world. The peak feels like a place from where you can say Lord Shiva is watching on us 24*7. The peak has 360-degree view and you can see all around.
The peak has a Shiva sculpture and a small temple.
I sought the blessings of Lord Shiva and thanked him for being the guiding spirit throughout the journey.
We started heading back @ 10:30 AM and cooked and had Maggi on our way back to Noradhar.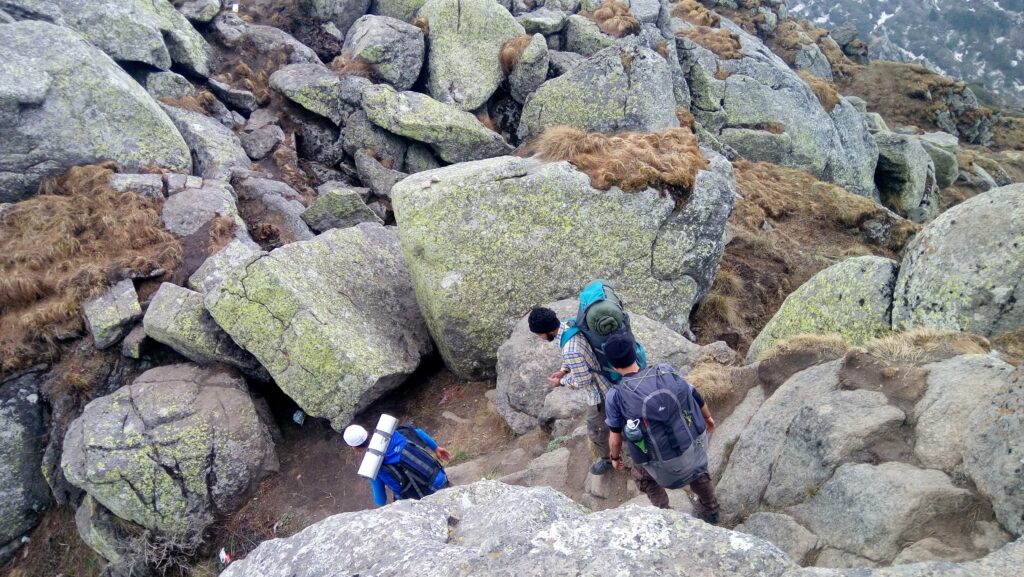 From jamnala we took another trail on the left which is well paved. By 4 PM we reached Noradhar.  Till this date the memories of the trail, the lost family and Prabh overcoming his fears is very fresh in my mind.
Mountains are definitely the place where I feel most alive and I am sure the same is the case with every trekking enthusiast.
What's your Churdhar story? Do share with us in the comments section. DM if you wish to share your blog/story on ShepherdTrail.
Har Har Mahadev!