Trekking to Kheerganga – an adventurous journey into the world of nature's beauty
This is an amazing experience and it's just like travelling to a different world. This trekking to Kheer Ganga experience was full of wonder and excitement and for me, the journey to this place was like a few seconds in the serene arms of nature. Everything I saw there was just full of serenity and beauty. Kheer Ganga is one of the most refreshing treks that one can go on anywhere. The natural hot water spring experience is just amazing and the trek is very pleasant and offers some exhilarating views. We were a few friends who have been there together. Trekking starts at a place called Barshaini. Barshaini is a place in the Kullu district of
Himachal Pradesh
(India). From Barshaini, one has to do around 12-15 KM of trekking to reach Kheer Ganga. Very few people know about this place and I think only a few have travelled to this part of the world but those who know and have seen it, call it a magical valley.
It's really fun and full of excitement if you go to a place you don't know how exactly it will be and then discovering that place and feeling like you're in a different world, and the only word that comes out from your mouth is just "wow". It was the first week of February, the winter season in the northern part of India, and Himachal Pradesh is one the coldest part of India with its snowfall and high range mountains. At 11 AM in the morning, we all friends reached Barshaini. It was pretty cold as the temperature might be less than 10 degrees Celsius, and therefore we have to wear jackets and all other things to save ourselves from the cold. Then we all together started moving towards Kheer Ganga. After trekking for 3 KM from Barshaini, a little tired we reached Nathan. It's a small village on the way to Kheer Ganga.
This village offers a place for the trekkers where you can get delicious food cheaper than it's in nearby places and believe it or not here in Nakthun, there's even a pool table(made by the local people with woods) thrown out in the open where you'll find local kids from the village enjoying their time. Travelers can also get a room in the beautiful wooden cottage and a few steps ahead from this village is a Rudra Naag temple and a waterfall. The feeling at that moment when we reached the Rudra Naag temple and saw the beauty around and the waterfalls were like we are in a different world. At that place, all one could see is just a dense jungle and huge mountains all around. Looking at nature's beauty, I realized that we live in a world where we are surrounded by the walls, building,s and all the other things like road traffic, crowded places etc but there is another beautiful world behind those walls and I was experiencing that world in Kheer Ganga. After crossing Nakthun, the real adventure begins, I must say the extreme adventure of my life. Now after reaching Nakthun, it was almost 2-3 hours trek to Kheer Ganga and there are 2 ways to go there, one which is a safer but long path and another one is a comparatively shorter path but a dangerous one. We took the shorter path, the dangerous one. To be frank, I had no idea how dangerous it would be to choose the shorter path and I think none of my friends knew that too. We were just cheerful and excited to be there. As we entered the jungle area the view gets more and more beautiful. There was so much peace and natural beauty all around. As we were getting closer to Kheer Ganga, the path is getting really difficult to travel, it was very slippery, there were frozen waterfalls on the way, slippery frozen ice was on the narrow paths. Steep slopes on one side and huge rocks on the other, there was hardly a place to walk. At the time we went to Kheer Ganga, there was fresh snowfall all the way and so it was very difficult for us to walk there at that time. The slopes on our one side were around thousands of feet down and we know that a single mistake could cost our lives. So we were very cautious while putting our feet on the ground. All the way long flows a waterfall on one side of the path with its full fury and I couldn't even imagine how cold the water would be in it as it was coming from the glaciers which were not far from that place. The sound of the stream of water was so loud in some places that one could hardly hear each other voices. We needed to cross that waterfall in order to move further. We crossed the waterfall by walking over a wooden bridge formed by the local people. Now, the path gets steeper and more steeper, it was getting harder for us to trek and then we saw a scene, we saw a board on a tree with something written on it that a young person fell from this place and lost his life, and that shows how dangerous is that trek. You need to be careful at every step. On our remaining path, we crossed many small and beautiful waterfalls, some of the waterfalls were frozen, there was frozen water on the path and narrow slippery paths having beautiful flowers all around and huge trees covering the sky. The jungle was so dense that sunlight was hardly reaching the ground but in spite of all the danger, we couldn't stop ourselves from appreciating the beauty of that place. Now, Comes the moment, the moment when we stepped in Kheer Ganga. There was a huge ground, it was totally whitewashed and surrounded by tall mountains covered with white snow, dense white and blue clouds were floating all around us. I rubbed my eyes, I was just full of wonder after watching that place, what a beauty. It was like I want to pinch myself to see whether I was not dreaming. The place was so peaceful, so pure, and all I think is that it's the amazement of this area,  calmness of this part of the world, the isolation of the habitation, the stunning beauty of the mountains, beautiful wilderness of the pine trees and then snowfall to decorate this place with its whiteness which gives Kheer Ganga its charm, its beauty and fills this place with serenity.
Far away we could see small 4-5 hut-shaped wooden lodges providing shelter for travelers. We went up to the lodges and took a room in a lodge and I heard that the owner of that lodge is a French woman(I am not sure about that). The Nepali man we met there is living at this place for almost 5 five-years and he is taking care of that place. There is no electricity in Kheer Ganga and the lights are all run on solar power. There are some extraordinary things about this place like there is a hot water string at this place. Two of my friends decided to take a hot water bath in that hot water spring. The water is hot because of the Sulphur in it and it's amazing to find a natural hot water spring in this kind of place where usually the temperature remains very low. This place is amazingly beautiful and one can easily spend a day or more here because you can get a lodge, food, and other essential things at Kheer Ganga, or either you can make your own arrangements by taking your own
camping
stuff.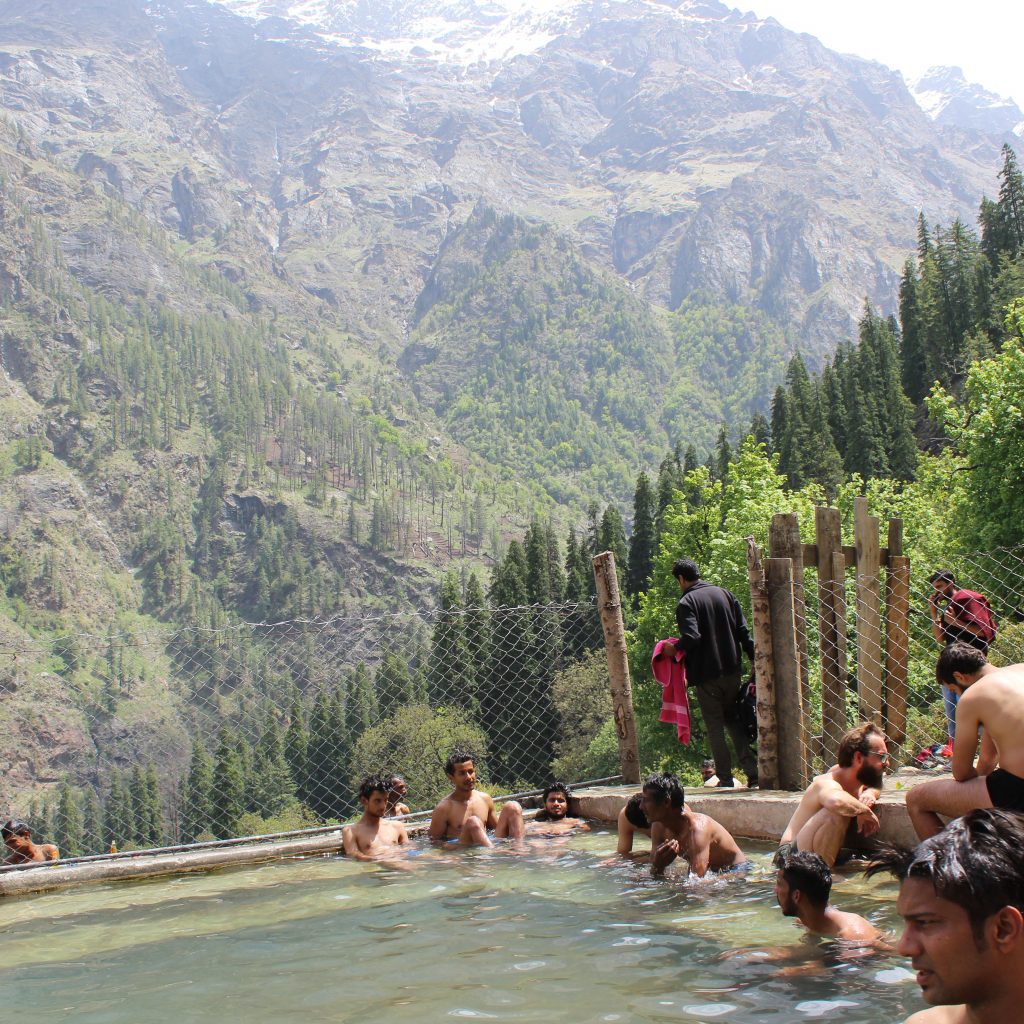 We stayed there for the whole night, had a very special drink, it was like a black lemon tea. We also had dinner over there provided by a man who stays there. According to my information, I searched some more facts about this place and I came to know that the French lady was living there in Kheer Ganga for the past 3 years(I am not sure about this information). She left everything from her country and has been living here for no reason, then there's a Russian man living in the lodge, who was in Kheer Ganga for past 2 years and just practicing yoga, a Nepali man who provided us food came from Nepal and was living here from last 5 year and working in Kheer Ganga as a guide and provides food and all others things like woods to burn fire, blankets, lodges room, etc to earn his livings. Everything was different and unique about this place that everyone who sees this place starts building a bond with Kheer Ganga, a bond of peace and love. There is no road connectivity to this place and this is the only reason why the beauty of this place is preserved. We humans need places like this where nature has not been re-arranged and altered by the hands of humans. The next day, it snowed again in the morning and therefore we had to leave this place because if we didn't return soon then we could be stuck there because of the heavy snowfall. So we left that place in the morning. And returning back to the Barshaini under that heavy snowfall is something that I couldn't even explain here, it was extremely difficult for us as the path was already full of snow at the time we were climbing to this place and now after this fresh and heavy snowfall in the morning, it was really difficult to see the path even. Now, the path was completely covered with fresh snow. The slopes on our one side were around thousands of feet down and a chilled stream of the waterfall was flowing in it with its full fury making a huge roar, it was like one step wrong and we would be out. I am sure, if anyone comes to this place once, they would love to come here a second time again as you simply can't get enough of these kinds of places. Trekking to Kheer Ganga has been an amazing experience for us. With so many good, beautiful, and a few scary memories we said bye-bye to Kheer Ganga hoping we could visit it again someday.