We had a state football tournament prior to this we were very, very exhausted.  The tournament ended by four in the evening and we headed to this place after that. Mostly in these places people get in their shelters by six. On our way, we met a few people who told us to get back as it was pretty dangerous to trek at night, that too in a dense forest.
But we carried on, I personally was having fever and even played the game with some medicines.
When we were trekking as we went to the higher altitude and it was getting dark, the temperature fell and I was all caught up by the fever. I remember sleeping just after walking a few steps. There came a time when I couldn't even move a muscle. I literally gave up. I told my friend that I'll spend the night in this jungle although it was very, very dangerous with all the wild animals and also the monsoon. Just then A friend of mine shouted that he saw some light at a distance. To this day I remember that moment how energized I felt when I saw that light.
That man had a little hut built over there and he generously asked us to Step-in, he also did warn us that we shouldn't be moving around the jungle this late, soon as I saw the place I could rest I quickly rushed to the spot and made myself comfortable, all set to go down in a deep slumber. The man said that he would give me an extra sheet to lay on but I couldn't care less.
The next morning when I woke up I thanked the man and told him,
I have no idea if I would get a glimpse of God in the temple or not but I am pretty sure I found God in you, you were my saviour the last night. 
After thanking him for the hospitality my friend saw us the gigantic pannar bugyaal we had to climb. It was like giving up and for a moment I did, I told him God is the witness of what I am suffering and he won't be angry with me. Still, I somehow got the adrenaline pumped and started the climb. The view on reaching pannar was something that one would fail to express in words, we had the gigantic Nanda Devi peak right in front of us that too with a lush green meadow adding to the beauty. 
It still was  10kms to reach our destination. It turned foggy and the temperature dropped and dropping temperature raised my fever, it became harder and harder for me to walk. A person who loves being clicked refused for photographs I remember one of my fellow trekkers saying,"topwal bhai yahan pe achhi photo ayegi" 
And I was like forget it I can't even move a muscle. When you decide to go on a monsoon trek, the most important thing to carry is a raincoat. 
I remember everything being wet as it rained heavily the last night, yes the same night I almost slept in the jungle. Every time I was to rest I would take out my raincoat which I had made fold and kept in my pocket, I'd place it on the stone and then sit on it, I remember this one time when I got up and walked and after walking a few steps I saw that I forgot to pick up my raincoat, Believe me, I didn't had enough energy to even walk back and pick up that necessity.
After the long ascent came a 3-4km of mild descent walk, And opposite to what it would be for other people I was equally weak on the descent. 
But eventually, at 12:30 we were at our destination we had the Holy temple of Rudranath in front of us, but to our bad luck, the temple was closed for bhog and would open at 4. We could do nothing but return back, And as we were to step out to return back, it rained so heavily we couldn't go anywhere. 
The priest told us to take shelter in the nearby cottage which was at a distance of around 50 m. We rushed to that cottage and having not picked that raincoat was hurting. The rain stopped at around 3:30. And we decided that we will visit the temple and later head to Gopeshwar.
Af
ter resting for around 3 and 1/2 hours, When I climbed those 50m towards the temple, I was gasping for breath I was so exhausted in just those 50m, I was worried about how would I get back home, I even prayed the lord that I would never ever go on a trek, just get me out of here. I remember my friend asked me to get a few flowers which were just next to me but I couldn't hand them to him because I was still breathing heavily. I hardly have any picture of mine near the temple Because I didn't have the energy to pose for that. I asked the locals to get me a horse for my way back but to add to our bad luck all the horses were taken by the last group of tourists. After claiming myself down I went inside the temple and prayed to the Lord, I would consider myself a bit atheist till this very moment. And for me, this wasn't a visit to a temple but just a trek to get off my bucket list.
But what was about to happen has changed my life completely. I took the Prashad and we all headed back. The locals asked us to halt for the night and we refused and continued walking.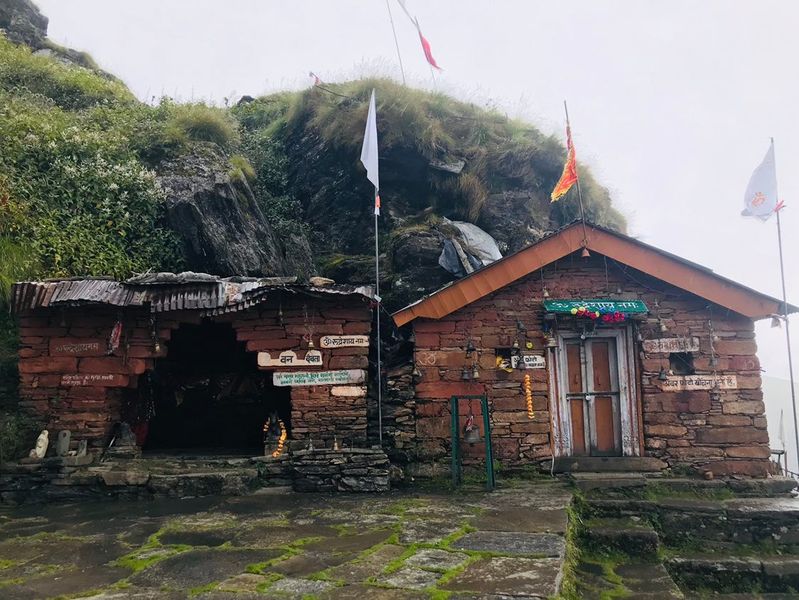 The last 4 km of the trek which was a descent towards the temple was an ascent now. And to the surprise to me and my friends on the ascent of 4kms, I just sat down once. It was like there was some kind of energy that was put inside me and I just walked and walked all the way down 18 km to the Sagar village the starting point of the rudhranath Trek. 
When I checked into the hotel room that night before I could sleep I thought about what had happened to me, that was when I realized what a fool was I to question the existence of God. It was he after seeking who's blessing I could do this, It was he after taking who's Prashad I could do this, It was he who made me do this. And from that moment I am a shiv bhakt. At that moment I promised myself That I'll do the Panch Kedar. 
And today shiva has made me complete my panch kedar. I wish I could make my lifestyle the way he wants it to be, do everything that pleases him and be a good soul. 
ॐ नमः शिवाय
-Ashish Topwal