It was this time of the year when like every year we go on a trek to explore the mighty mountains, to push our limits, to find peace within, to detach ourselves from our daily routines and to transform into a better human being.
This year we went on a Kuari Pass trek, which is also known as 'The Curzon Trail' as Lord Curzon trekked from this route in 1905. It is also one of the coldest winter treks in India. Specifically for us who are used to staying in 40°C heat to go on a trek where temperatures could go around -10°C at night, just the thought of it gave us the chills which actually helped us being mentally prepared for the challenge.
To acclimatize ourselves, we decided to stay at Rishikesh for 2 days before starting our trek. The day one of the trek was travelling day where we travelled from Rishikesh to the Tapovan base camp from where our trek was going to start. The journey is very pleasant and you get hang of great mountain views and the river flowing beside all day long. However, if you are someone with motion sickness, you may not enjoy the journey as much as others 😅.
On day two, we started our trekking from Karchi village and we had to reach to Akhrotghetta camp site. Just the first few steps gave us the reminder that the next few days are gonna be challenging in terms of the cold and steep climb. Just after we reached the camp site, had lunch and layered up for the cold evening. It started to snow, it was just magical how the snow flakes were falling down from the sky, it felt like the god is showering his blessings on us in its own way. Few of us witnessed the snow fall for the first time in the life and everyone enjoyed playing in the snow like a kid.
Our day 3 started with a blurry thought that we might not be able to trek to the Kuari Pass summit as it has snowed the whole night since past evening plus it was still snowing while we started to trek for the day from Akhrotghetta to Khullara camp site. It was like a dream to walk while its snowing and it was fulfilled on this day as it was still snowing while we were trekking to our camp today. The views were mesmerizing, we walked through the forest surrounded by the oak trees all around. The sunrays through the trees gives us immense joy and belief to push our limits and continue to grow along. We get the good view of some of the mountain peaks like Mt Dronagiri, Hathi Ghoda, Kamet, etc while on the trail which keeps you motivated and grounded at the same time. Just when we reached the camp site, we knew this is gonna be the coldest night and it indeed was, it went down till -13°c on that day, we all spent our evening in the dining tent as it felt warmer there comparatively. We all talked, played, prepared DIY tomato soup and after having delicious dinner we all went to our tents inside our sleeping bags to face the coldest winter night.
Day 4, this was the most important and challenging day of the trek. It was the long day so we started little early as we had to do the summit push and then to reach at the Tali campsite. When we started to trek there was a slight sun rays which gave us the hope that if there is no snowfall today like past few days, we will be able to successfully summit. And the god heard the prayers, it was still the chilly and freezing but there was no snowfall and weather was clear for us to push ourselves.
After a few hours of decent climb and walking through the snowy slopes we all successfully managed to reach to the Kuari Pass summit point which was a relief and much satisfying, emotional moment for everyone that our planning, preparation of past 3-4 months have paid off. Also, not to miss the view from the top, it has the astonishing 360° view of mountains from the top which includes more than 20 mountain peaks like Chaukhambha, Dronagiri, Nilgiri, Hathi Ghoda, etc so close and clear for you to witness the beauty of nature. After spending some time at the top, we all started to decent , but due to snow mostly everyone had to do a scary snow slide to reach down from the top and heard that due to that other groups were even not able to go to the top. While on the way to Tali, there's a ridge walk with beautiful views around you. I personally love walking on such ridge and we also had our lunch stop with such view on the way. Today was the long exhausting day and all were very tired, some felt mild headache and body pains, but nothing was serious and everyone successfully completed the summit day.
The last day of the trek and it was also the last day of the year 2021, yes in last few days we were totally disconnected and didn't remember which date or day it was but as the trek was coming to the end and it was 31st everyone was up for ending it on high note. So, today we had to reach from Tali campsite to Joshimath. We had to skip Auli as there was lot of snow on the way and in last few days we have seen the lifetime of snow and life in snow. First on the way we went to Tali lake, which is a frozen lake and we spent good quality time there as the weather was clear, the views were great and we also did a small activity to write a post card to our loved ones expressing our gratitude, feelings and emotions. We were writing the post card just in front of the mighty Nanda Devi peak which makes it more special. This activity made people emotional, opened up and write what they feel and look within ourselves. After that it was a lovely gradual decent walk with the most amazing views of the mountain peaks which was the highlight of the trek. You feel you are constantly walking towards the mountains and they are welcoming you with their arms wide open. After walking few kms and walking through the village we managed to reach Joshimath where we had to end our this year's trek journey.
As it was the 31st Dec, we welcomed the new year with all the positive vibes and wishing each other a happy new year by cutting a new year cake🍰. Also, we looked at the past few days spend together in not so comfortable space and everyone talked about their journey to reach here and how they felt about it by expressing their thoughts.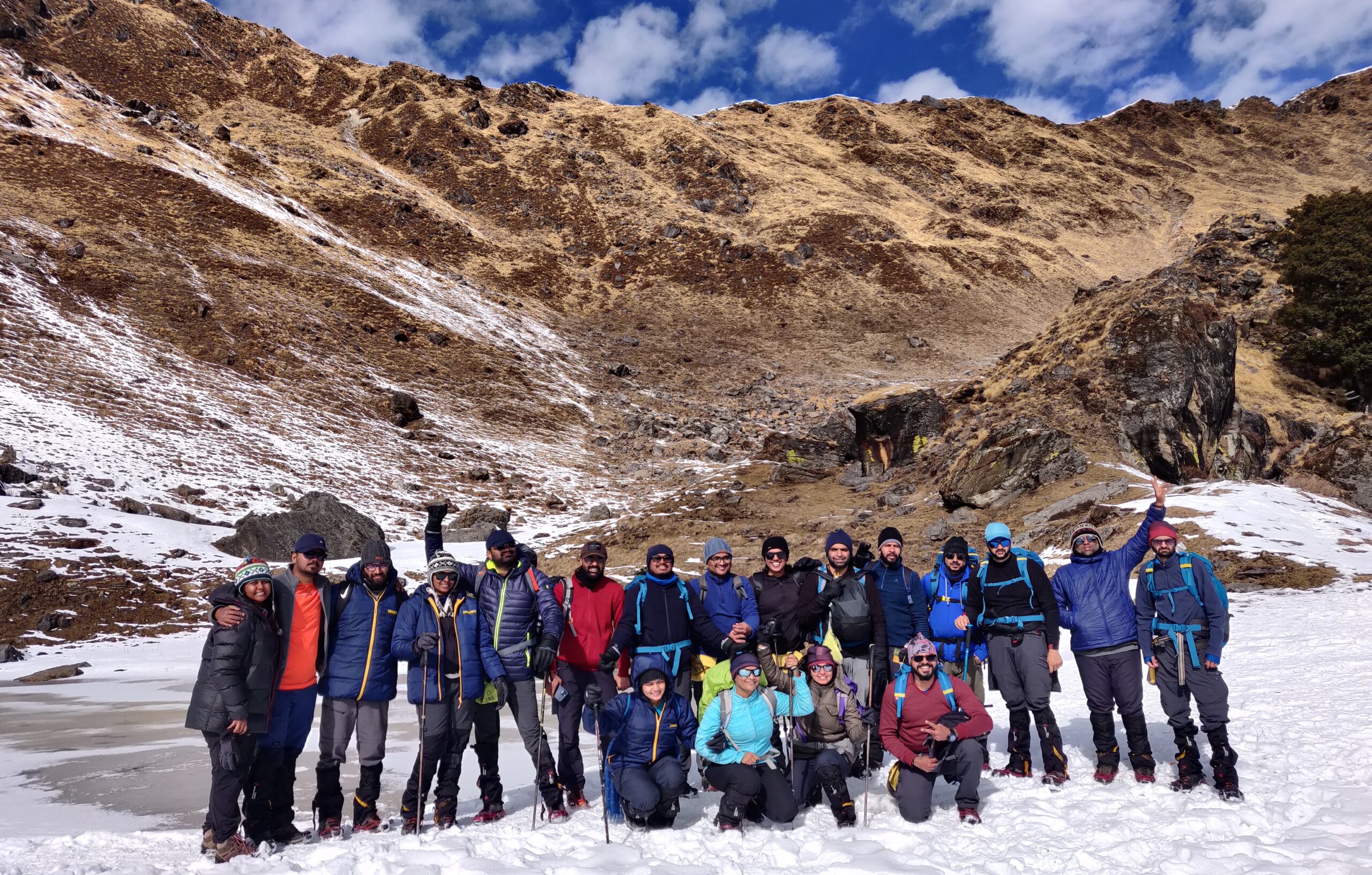 It was a life time experience, thanks to everyone for being part of it. Hope we continue to go on such adventures. God bless🙏