How I Met Me – A Trek Date
At times, all it takes is just that 1 trip, 1 destination, 1 moment, or 1 experience to see through oneself.
For me, that was my 1st Himalayan Trek to Tunganath and Chandrashila (12,500 ft) in Uttarakhand. A trek that made me see life with a new lens. This blog is more about that lens than the logistics of the trek.
The Trek (Tunganath and Chandrashila)
It was a 5-day trek from Sari Village – a beautiful hamlet at an elevation of 6500 ft in the Garhwal region of Uttarakhand, around 200 KM from Rishikesh.
The trek had actually begun days before reaching Sari. There was a lot of prep work that went in, starting from cardio exercises, weight training, a few breathing exercises, shopping the trekking gear, making a packing checklist, first-aid kit, etc.
And finally, I reached Sari – the base camp for my Trek. Reaching the base camp was a Trek in itself😊.
First, Fly from Hyderabad to New Delhi. Then take an overnight train from New Delhi to Haridwar. And then comes the 7 hours long road journey from Haridwar to Sari.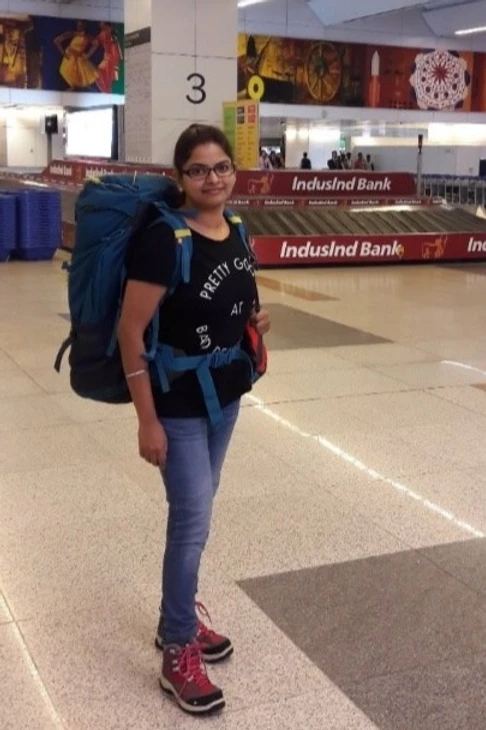 This has been always the same in all my treks. It's like getting you prepared for the real trek 😊.
The next 5 days were absolutely thrilling and exciting filled with memories of a lifetime. Of course, it was very tiring for a beginner, but it was equally relaxing around gorgeous campsites as you can see.
Each day was full of scenic views of Mt. Chaukamba, Rhododendron forest trails, idyllic glens and meadows, beautiful Himalayan birds like the Yellow-billed blue magpie, and Uttarakhand's State Bird – The Monal.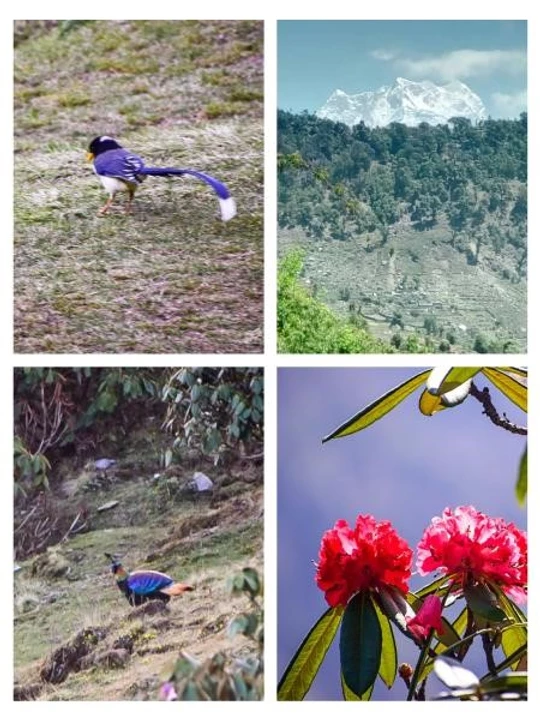 It was all about how you keep going and push yourself to complete that 1-day target, instead of thinking how to reach the summit, as the saying says – One step at a time.
No matter how far or high is the summit, if you just focus on today's target, push yourself to achieve that one thing today, that's how you reach towards your summit.
The Summit

"One day, the mountain that is in front of you, it will barely be visible in the distance. But the person you become in learning to get over it? That will stay with you forever. And that is the point of the mountain."― Brianna Wiest
This is exactly what happened to me in the trek. I am an entirely different person after the trek; I am more of a minimalist than a materialistic, confident, adventurous, living life to the fullest, respectful and mindful of the power of Nature more, valuing Living over Existing. Impossibilities are sometimes the gates to new possibilities. Exploring one's fears and limitations opens such gates that we never imagined.
This is what standing on the summit felt like – That eureka of accomplishment; that gush in self-confidence, self-motivation, and seeing a totally different world up there – a different power of creation that I never realized even existed. A moment of nothingness which was also a moment of wholesomeness.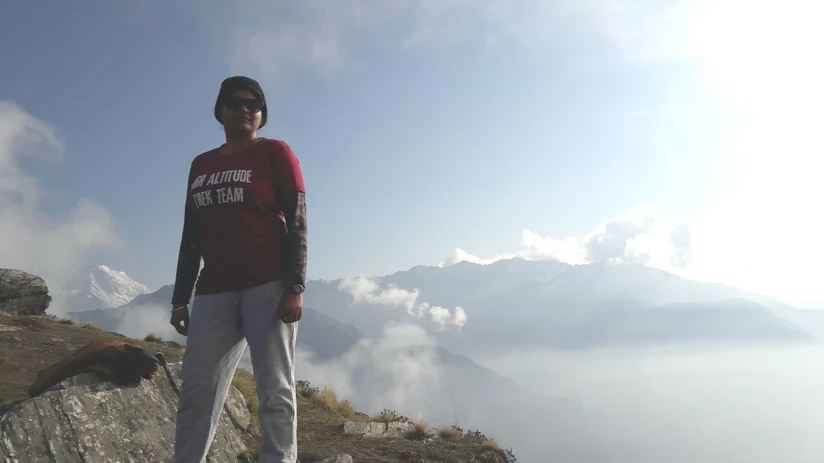 You are out of thoughts – that blank moment of life when all you have are those mighty peaks, those high swirling birds, that soothing chillness of the breeze, You, and your heartbeat. That's all is your World there.

That moment of stillness when you find yourself pondering over – Who am I? What is your Life about? What is this creation about? Are you Living or Existing? What's your purpose on this Planet? Universe has the mystical power to show you what you are seeking.
The Fears
I am a very fearful person 😊. I am claustrophobic, aquaphobic, minor acrophobic, and cynophobic.
I was never aware of these phobias so strong within me until this trek. The moment I went into the sleeping bag in my tent that night, I couldn't breathe. I felt suffocated, anxious, increased heartbeat – I was just unable to sleep inside the tent. In the entire trek of 5 days, I could sleep a total of 8 hours only. That's when I faced this phobia head-on – that was the moment I realized this is so strong within me. Every night I used to try different ways to put myself into sleep –mountain pictures, music, staring at the moon and stars in the sky, keeping the tent door slightly open, etc.😊At times, I just walked around the campsite like a zombie 😊. That made me witness some amazing twilights and star-lit skies though.
This was very difficult during my 1st trek, however, the subsequent treks were a bit better and now I'm able to sleep at least 5 hours every night on a trek 😊.
My next phobia was fear of dogs. Due to a not-so-good encounter with an angry dog in my childhood, I have been very scared of dogs all my life. I met a couple of mountain dogs on my trek and I bonded very well with them, as you can see😊 That's the 1st time when I really petted a dog. This guy was with us for the entire trek – he followed us from Base Camp to the Summit, like a true companion!
Anyone who has been to the mountains can certainly relate to what I'm trying to convey here – even dogs in the mountains are so compassionate and full of warmth. You just need to feel them. From that day on, mountain dogs are my friends 😊. I'm still trying with the city dogs though 😊.
As I mentioned above, reaching the Summit brought in a lot of confidence and everything seemed possible to me thereafter. So, I decided to face my next phobia – Fear of Water. Claustrophobics are mostly aquaphobes too. I did go for River Rafting in The Ganga at Rishikesh, after my trek. The oarsman literally pushed me out of the raft saying "you should try this" 😊 Trust me, it gave me chills all over, I was scared to death and couldn't process what's happening.
It was really horrifying for a person who never has even tried any basic water sports 😊. You can see that on my face (lol).
It's always better to face your fears and limitations and fail than to fail anyways running away from them. It will either break you or accelerate you as I did. So, take that plunge towards yourself and explore the real YOU.
This is how I met Me on 1st May 2018, when are you meeting yourself?
Please share your here, it will be my delight to read them.