Well, it was late Nov'17 when Pankaj called to go for a hike close to Dharamshala. At the moment I wasn't aware of Kareri Lake and heard the name for the first time. Kareri lake trek became famous in the 20s and it was a pure offbeat place before that and most people were not aware that we do have such a preserved trail which is less crowded and is a better option than Triund. The year 2016 was the year by when the popularity of the Triund trek already reached its peak and it's still one of the famous hikes among the trekking community.
So instantly I agreed to join him for the trek. That was also the time we were planning to start our own trekking business though we were unable to execute the same. So Pankaj managed to get 2 of his work colleagues to join for the trek.
I boarded an overnight bus from Chandigarh to Dharamshala and we agreed to meet at Dharamshala as Pankaj would leave for Dharamshala after his work hours in the early morning. So there was I standing at 4:00 AM standing in Dharamshala on a chilled morning.
I waited for about 2 hours when Pankaj reached Dharamshala. We had an awesome tea and then we departed towards Kareri village.
The road to Kareri village was under construction and was a bit jumpy and completely off-road. The road is inclined and was a narrow road with a very low margin for error and you would end up straight at the bottom of the valley if you slipped. It was a fun journey to Kareri Village. When we entered Kareri village you will see fresh developments and camps being set up. There were also a couple of homestays being set up and fresh structures being built up but majorly it was a small dune over the mountain.
We chit chatted with the locals to ask for the place to park our vehicle and parked the vehicle opposite to tea stall we had our breakfast. There were not many options available for food when we visited Kareri. Only 2 small tea stalls and one under construction café/campsite.
We started our hike to Kareri lake around 10 in the morning. There was a road head from where the trek starts till that point we could drive our car but we thought of leaving vehicle safe at the tea stall and took a walk through the village. There is a path which goes straight through the village and I think that was the best decision. While we were going through the village there were multiple locals who asked us pleasantly where we have come from. One old lady even offered us to rest and have tea as we were going through the village path. Well, that's the beauty of being in a Himalayan village. The village is majorly occupied by the "Gaddi" tribe of Himachal Pradesh who are mostly shepherds (or used to be) though civilization cached up and people either started doing jobs and came down the hills children's studies. Though if you will closely observe the guides on trails they are mostly from the same community and are open-hearted people who will show good hospitality and are reliable in mountains.
Kareri lake trail is being followed by Gaddi Shepherds also known as "Paal" from centuries to commute between Kangra and Chamba region. The path goes through Kareri Lake, Minkiani Pass (4250m) and Baleni Pass (3710m) to connect Chamba to KANGRA.
While you go through this ancient village you will find a lot of ancient mud houses, structures, livestock and sheep herds (Also called "Dhan" in the local language ). If you have ample time and want to experience Himalayan village culture you should definitely stay at Kareri village for a few days. There are a couple of homestays now available in the village.
Just after the village we took a paved path upwards to the road head and reached the road head from where we started our hike to Kareri lake. The initial path is a bit tricky and you may get lost initially. The best bet is to follow the stream which is coming from the lake. The rest of the path goes beside the stream.
A few minutes into the trail we found ourselves in a deep forest and crossed the stream and started hiking on the left side of the steam. The point where we had to cross the stream was very scenic and there was a small pond of freshwater. We refilled our water bottles and clicked a few pics. The atmosphere here was completely silent and rejuvenating. If you may ask me I was ready to camp here for the day though it was just 20 minutes into the trail.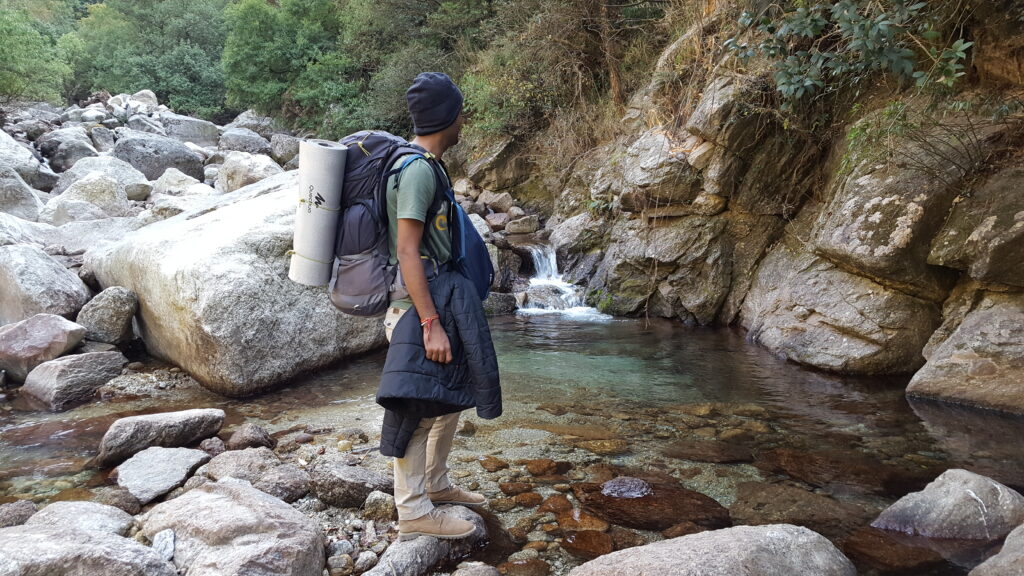 After a few minutes, we started our hike again. The trail now was well defined and clear. Forest became a bit denser. Few more minutes into the trail and we were joined by a solo foreigner trekker who was hiking solo. He joined our group and we started hiking together. After a few hours of trek, we started feeling exhausted and we took a small break. We literally found animal skulls here, having found skulls we were pretty clear that the area is inhabited by many wild animals.
After a few minutes, we thought of having our lunch. We had a few instant noodle packets and hot water which we carried from the village and we made instant noodles. After lunch, we started walking again and we found a beautiful iron bridge near reoti.
The café here was closed and we moved on. We reached Reoti in a few minutes. We could see a temporary café which was closed for now but there was camping space available at the café just across the small stream. We sat up the camp for the day and rested.

The next morning we left out our gears in the camps and started hiking to the lake. The final stretch is a bit steep but at the same time is equally beautiful. The trail goes along the stream which is coming from the lake and you just need to follow the stream. There are a few shepherd huts on the way which were vacant when we visited. There were few nomads who were camping there and after speaking to them we found that they were from down south and were camping there for almost a week.
We could see the temple on the lake and got a bit excited to hike to the final destination. We literally ran for the last few steps and finally, we were there at the lake beside the lord Shiva temple. The entire lake is a beauty and you get satisfied to witness a lake that is storing water straight from the glaciers. There was no snow at the lake when we visited and it was a bit dried up so we entered the lake and clicked a few pics there.
The feeling of accomplishment fulfils you with new energy when you visit such a place which was a dream at some point. We sat there at the temple, sunbathed for a few minutes and finally headed back home. To this day the memories are so fresh from this trail that I can visualize this at any moment.
On the way back we witnessed one of the best sunsets you could witness. We lost our way while coming back though we could find an alternate path from road head to reach Kareri village. If you may ask me this is one of the good beginner's trek and is a must-do. Planning for Kareri lake? You can find all the important information here.